Hackers group Lebanese Cedar attack unpatched Atlassian servers at telcoms, Hosting and ISPs providers.
Lebanese Cedar
A volatile hacker group "Lebanese Cedar" linked to Lebanese Hezbollah Cyber Unit, has more advanced technological skill than previously thought.
Over the past decade, companies in the US, UK, Egypt, Jordan, Lebanon, Israel have been targeted by this group.
Israeli cybersecurity firm — ClearSky in a report on Thursday, found at least 250 web servers have been hacked by the group.
However, Lebanese Cedar group focus on collecting intelligence and stealing company databases with sensitive information.
In addition, the information includes:
client call records
and, private data in the case of telecommunications companies.
Attack Workflow:
Clearsky researchers said the attacks followed a simple pattern.
According to the researchers, threat actors used open-source hacking tools to scan the internet for unpatched Atlassian and Oracle servers.
In follow, hackers performed exploits to gain access to the server and install a web shell for future access.
And, Web shells such as:
ASPXSpy
Caterpillar 2
Mamad Warning
and, an open-source tool named JSP file browser (which can also function as a web shell).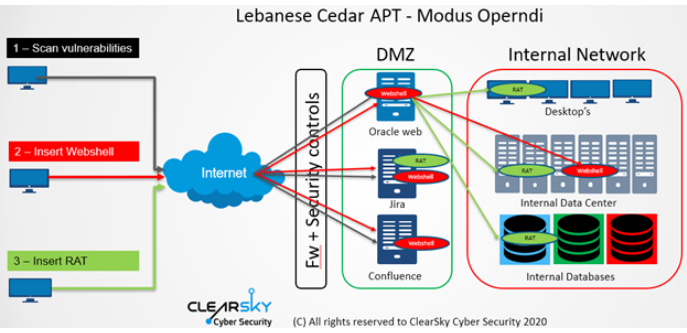 After that, Lebanese Cedar deployed the payload of Explosive RAT into the victims' network.
According to ClearSky, Lebanese Cedar is the only known threat actor that uses this code, which comes with capabilities to record keystrokes, capture screenshots, and execute arbitrary commands.
Clearsky said the hackers used three flaws in the servers such as:
CVE-2019-3396 in Atlassian Confluence
CVE-2019-11581 in Atlassian Jira
CVE-2012-3152 in Oracle Fusion
Indicators Of Compromise:
ClearSky Lebanese Cedar report's PDF contains data including indicators of compromise and more technical details.
Hash Values:
MD5
File Name
Type

webshell

33AF1CD4585DA9ED804068B2A45FC8B4
404.aspx
Caterpillar 2
6BA944E9D3D96A46509204CD06EA2B11
405.aspx
Caterpillar 2
61F46FA93083D3A160AC8356FBC15722
–
Caterpillar 2 – ITSec Team
150DC0141B8A0010BB5A82419B3293EB
–
ASPXSpy
7D58573B98597A010597423652AE3394
–
ASPXSpy
F30F2184ED83929CF96157BC91210DAA
Mamad.aspx
Mamad Warning
8ED3D1CADC4C2251EC606B9D6EB5D272
–
Caterpillar 2
2D804386DE4073BAD642DFC816876D08
–
Caterpillar 2
2ADF71947E977B85E269D5962243215C
–
SharPyShell
93448B89C592985E22F60AB0D654787D
CV.php
Adminer
2D804386DE4073BAD642DFC816876D08
–
File Browser JSP
39887492C5C70977C0C0CF0AA0E7154B
test.jsp
File Browser JSP

Explosive RAT

a97fdcb6493c2012aeebdeef0e09625a
Communicate.DLL
dll
1316d35f6472eb323ae2c8b75199fbb5
spmpm.dll syslib.tmp
dll
09a0970bfc1bc8acec1ec609d8d98fda
Mir.exe
exe
fef76a8027e07c7a51b312a26c488653
dzip
exe
902bcc27ed86bc623e20532239895da7
917951-f2030832.dll
dll
8ac64a171736252b81c4a559df1f9bae
–
65954b4c60031fb857a09761497ff641
rspr
4147d6beb17b507a5df345dae5f15c41
symlock
544fdcce998fc7f4bb2914b3ec5b4761
symlock
1aebf9d07fe6e82d97e062cdbe656a36
wzip
5d1f75bfc7cbd96891f26b1041fd5994
wzip
b54346cdaf9556eb88f3d95e0bad2be5
wzip
1aebf9d07fe6e82d97e062cdbe656a36
vwupd.tmp
e9f0260409c6c964985fa4df926d7e04
wsinhelpd
3188df195d09ee38d89707501e330c2f
dllhost.exe wvwupd.exe
exe
IP Address:
68.65.122[.]109
74.208.73[.]149
191.101.5[.]183
198.101.242[.]72
169.50.13[.]61