Football is a crazy game, every movement and every player is very vital for the club, if there is any confusion the complete world goes crazy. Keeping that in mind the hackers group once again struck the RealMadrid account now; which says "Barcenlona's greatest player Messi is signed up for Madrid"
Hackers group threwed that "Internet security is s*** and we proved that" and they continue success … Hack continues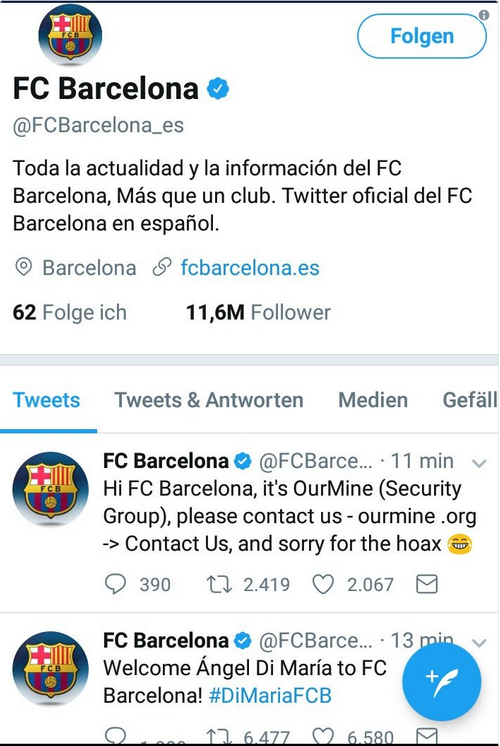 Who is Ourmine? Are they BlackHat? or Whitehat?
Before I convey, one previous incident reminds me that "One day after an article published in BuzzFeed for claiming the particular group member, OurMine infiltrated BuzzFeed's website and modified their content of several posts to read as "Hacked By OurMine"." Keeping that in mind the below for your conclusion 🙂
They are the new hackers who grouped in 2014 and experts claim as they have located in Saudi Arabia [Assumption – Since an IP trace showed SA ] with 5 members team along with Official website ourmine.org
Proving their Hacking Capabilities through famous Celebrities, CEO's and famous organization accounts including YouTube accounts and videos. Game of Thrones ?
They don't have the history of creating / spreading Ransomware to infect the worldwide business
They have not spread any malware using their hacked accounts
They have performed a hack only on the famous accounts to make them famous
They prove hacking is still possible even after Artificial Intelligence and security solutions are enhanced to next generation
Their website gives you the clear picture where they are ready to help you to assess your industry by paying them through "PayPal"
Experts quoted they are selling the leaked PII's in Dark Market which is already sold for $16500 – Though there is no official proof for that
It's clear the last two years they are striking goals back to back. This is a serious issue where even they were able to hack high profiles which shows the security deployed in the industry.
Security Practices and Protection Levels require a must improvement it's not important they are Black-hat or White-hat, it's proven the industry security practices is on a TOSS.