Google warned users to update Chrome browser — zero-day vulnerability in the Chrome browser — actively exploited in the wild.
Zero-Day Bug — Chrome
A zero-day vulnerability is referred as the number of days a software developer has known about the problem, the solution to fixing a zero–day attack is known as a software patch.
In addition, Google Project Zero — a security research unit within Google Inc.
Where, the team is to find vulnerabilities in popular software products, including those created by Google itself. 
Earlier today, Google has released fixes for yet another zero-day vulnerability in tech giants search engine.
This is the second zero-day flaw in Chrome that Google has addressed since the start of the year.
Moreover, the patch for 47 bugs (eight high-severity vulnerabilities) released are: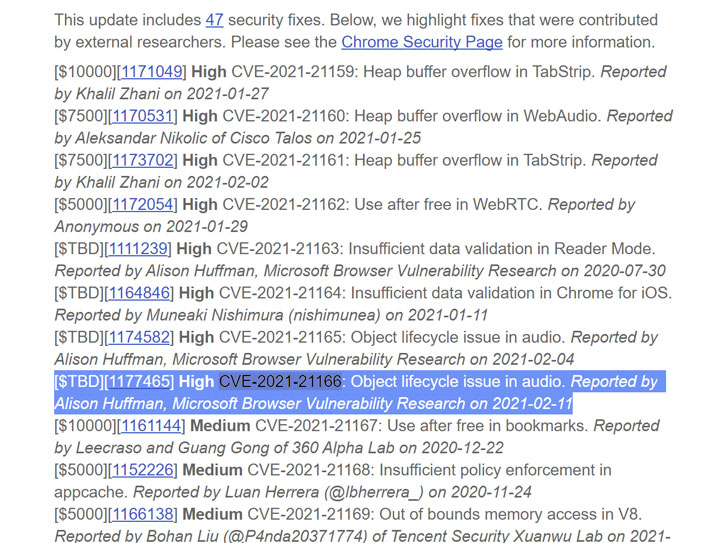 CVE-2021-21166 High-Severity
Alison Huffman from the Microsoft Browser Vulnerability Research team reported this vulnerability.
Huffman reported, the security flaw on — Object lifecycle issue in audio.
In addition, the vulnerability is considered as "HIGH" severity security flaw and the issues fixed in the latest Chrome release.
On the other hand, separate object lifecycle flaw, also identified in the audio component, he reported to Google on February 4.
Where the same day the stable version of Chrome 88 became available.
Security Recommendations:
However, Google acknowledged the exploit for the vulnerability exists in the wild.
Further added, "Access to bug details and links may be kept restricted until a majority of users are updated with a fix."
In short, to update Chrome 89 head to Settings > Help > About Google Chrome to mitigate the risk associated with the flaw.
Follow Us on: Twitter, Instagram, Facebook to get the latest security news!