On July, there was massive Twitter security breach of 130 high-profiles like US presidential hopeful Joe Biden, Tesla founder Elon Musk and Microsoft founder Bill Gates.
This Time, India's Modi Targeted.
On Thursday, Twitter said it was aware of the activity and had taken steps to secure the compromised account.
The narendramodi_in account with 2.5 million followers and is associated with Modi's personal website, according to the BBC and other media reports. But his personal account was unaffected by this attack which has 60+ million followers.
Hacker – John Wick!
An array of fake tweets sent from the verified account for about an hour on Thursday asked followers to send cryptocurrency donations to an organization called the "PM National Relief Fund" and included a digital wallet address, according to the BBC. After officials were alerted, the messages were taken down.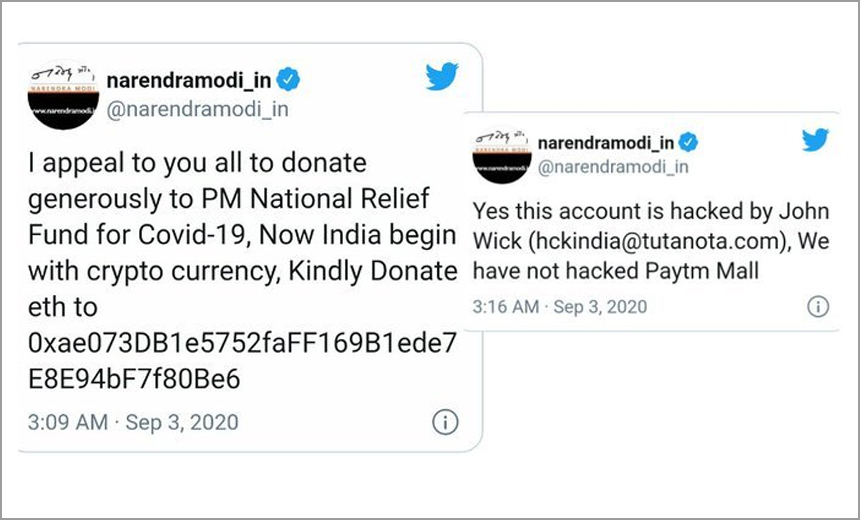 Within some minutes, another tweet with message "Yes this account is hacked by John Wick (hckindia@tutanota.com), We have not hacked Paytm Mall"
After the July incident, Twitter launched an investigation into its security. U.S. law enforcement officials charged three people with hijacking the accounts and waging a fraud campaign that scammed individuals out of approximately $120,000.
Social Engineering
Social engineering is the psychological manipulation of people into performing actions or divulging confidential information.
The attacker is able to gather information about a company's network by asking questions and may use that information to appear more credible when approaching other employees within an organization, which appears to be what happened at Twitter.
How to be safer?
Should be careful about the information that we are sharing in any form
Refraining from providing personal or identifying information over the phone
Delete any request for personal information or passwords
Reject requests for help or offers of help
Set your spam filters to high and secure your devices
No matter whichever the social media platform we are in, irrespective of Two Factor Authentication the social accounts are getting kept hacked. We need to ensure, social media account and our day to day personal banking accounts not with the same credentials. Ensure we are not merging both with the same account. If so, you lose YOUR FAME and Name along with $. Keep the Your all Accounts Secure we never know what happens after reading this POST