Adobe Flash Player will no longer be supporting Flash Player after 31 December 2020.
Adobe Flash Player:
Software used for content created on the Adobe Flash platform, including viewing multimedia content, executing rich Internet applications, and streaming audio and video.
But, Microsoft has already confirmed next update for Windows 10 will automatically remove Flash Player.
In addition, all the popular browsers across platforms will remove the flash player.
Over the years, multiple zero-day and critical vulnerabilities found to impact Flash Player that both cybercriminals and nation-state hacking groups used:
to install malware,
remotely execute malicious code,
and take over the users' computers.
Moreover, this decision was taken due to the decreasing numbers of people still using the software.
Because of more secure and better-performing open tech such as HTML5, WebGL, and WebAssembly being available.
Also, Adobe started displaying alerts on Windows computers recommending users to "immediately" uninstall Flash Player from their systems.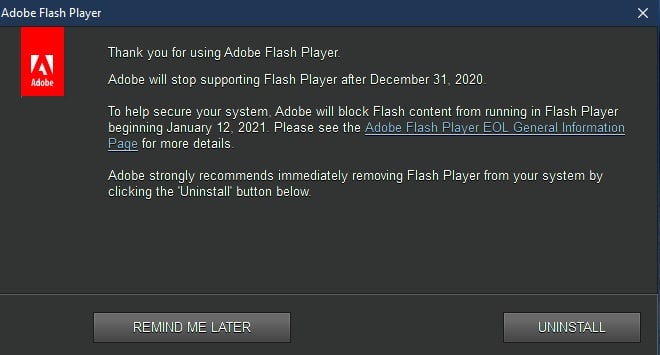 Uninstall Flash Player:
To remove, click "Uninstall" when prompted by Adobe in Flash Player or follow these manual uninstall instructions for Windows and Mac users.
Also, Microsoft has also released the KB4577586 optional update to remove Windows ActiveX versions of Adobe Flash Player and to block it from being installed again.
Note that this pop-up is currently rolling out gradually.
In addition to the Adobe's own alert, Flash Player will be deleted from your system by the Windows Update.
Adobe will remove Flash Player download pages from its site after the EOL date. Adobe will block Flash content from running in Flash Player beginning 12 January 2021.
Last Chance — Enterprise Version:
According to an Adobe announcement, Enterprise users can reach out to the company's official distribution licensing partner, HARMAN.
For users, still, use internal business systems requiring Flash Player support and commercial licensing.
"To aid such customers, Microsoft Edge will allow Adobe Flash Player to load as a plug-in via the IE mode feature," Microsoft said.
Most importantly, highly recommended not to download the software from any third-party sites. Those versions are not authorized by Adobe.
Unauthorised downloads are a common source of malware and viruses.
Follow Us on: Twitter, Instagram, Facebook to get latest security news!